The Rocky Mountain High Intensity Drug Trafficking Area (HIDTA) puts out a comprehensive analysis of the impact legalization has had in Colorado each year since 2013. If you don't have time to read the entire 173 page analysis, please read the executive summary. The 89-page Update was just released in September 2018.
Colorado past month use for 12 and older is ranked 3rd in the nation and 85 percent higher than the national average.
Seizures of Colorado marijuana in the U.S. mail system increased 1,042 percent since legalization.
Since recreational marijuana was legalized, marijuana-related traffic deaths increased 151 percent while all Colorado traffic deaths increased 35 percent.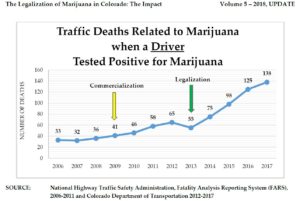 The impact marijuana legalization is having in Colorado can't be ignored. To think Illinois would be able to dodge these unavoidable consequences is irrational.
Big Marijuana would like nothing better than for voters to believe that today's high potency marijuana is just like the weed of the 60's and 70's; that it's no different than having a beer. They want voters to believe that legalization will reduce crime and do away with the black market drug cartels. They want voters to believe that regulating it will keep it out of the hands of young people. They want voters to believe that taxing it will bring in a flood of revenue for cash-strapped states like Illinois. They want voters to believe that driving fatalities will not increase. They want voters to believe that marijuana farms are good for the soil, the environment and the wildlife.
NOTHING COULD BE FURTHER FROM THE TRUTH.
To learn the truth would mean that voters would become educated and there would be a groundswell of opposition to legalization. And if this happened, Big Marijuana would lose $$millions.
So their brilliant campaign of lies continues.
During September and October, a series  of presentations endorsed and promoted by the Illinois Sheriffs' and Chiefs of Police Associations will be live-streamed at www.FaceBook.com/NoWeedIllinois. The schedule is HERE.